Showing all 19 results
       what is Poker analyzer
Poker analyzer is a smartphone with a special program that analyzes poker data and reports winning hands by first scanning the marked cards with the phone's scanner or wireless scanning camera. It is also known as the winner predictor because it predicts the outcome of the match in a scanning system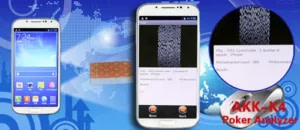 Poker card analyzer are highly regarded by poker players for their accuracy and ease of use. This tool is often compatible with barcode marked playing cards. It can decrypt four of the marked cards' edge codes and use that information to determine the winners . This allows players to greatly increase their chances of winning in poker gambling games.
Poker analyzer can be used for all casino poker games,The CVK 600, CVK 680 and AKK A3 series and other analyzers are the casino standouts and can be used to play Texas Hold'em or Omaha.We have all the poker cheat solutions you need, whether you want a poker card analyzer that you can slip into your pocket or a Texas Holdem analyzer for your new iPhone. The top-range poker card analyzers can be used at distances between 20-40cm.
How to use Poker Analyzer?
You now know about the existence of an excellent poker analyzer. Do you know how to use poker analyzer?
First, poker analyzer must work with barcode marked cards. The system cannot read any information from cards if you make marked decks for contact lens preparation. The barcode on poker cards contains all the information. The system in the analyzer can decode it and determine who wins every round.
The second step is to decide what type of gambling you want to play and then complete the setting. We will complete most settings. You will still need to configure frequently-used information such as players' amount, video selection, voice mode, and so on. You can adjust the player numbers by using the controller if a player leaves or joins the game.
To scan the cards, you can either use poker scanner camera or a wireless camera. The wireless camera is also available if you are unable to place your phone on the table. There are many cameras to choose from. You can then carry your phone with you 。 You can then scan the cards with your local camera by making sure they are within the scanning distance (20-40 cm).
After the analyzer scans the marked playing cards, the final result will show you who the winner is from the Bluetooth headphones. Poker analyzer has a time mode that will show you the results if you are concerned about other players being able to see your results. You can also purchase an poker hand analyzer vibrator that will show you the winner by frequency.