Poker analyzer iPhone is the most professional Texas Hold'em and Omaha poker cheating device, the pinnacle of innovation and sophistication in the world of poker cheat. Designed to be your ultimate poker companion, the CVK 400 poker analyzer is a cutting edge device that will revolutionize the way you play poker, giving you an undeniable edge at the table.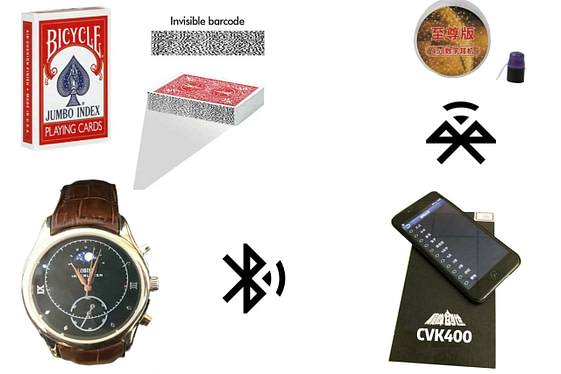 Why CVK 400 Poker Analyzer Iphone7?
1. Unmatched Accuracy:
The CVK 400 poker analyzer cheat employs state of the art technology to provide you with unparalleled accuracy in analyzing poker games. It can read and analyze the barcode side marked cards in a fraction of a second, giving you real time, precise information about the game.
2. Versatility in Games:
Whether you're a Texas Hold'em enthusiast, a Blackjack pro, or enjoy a variety of poker games, the CVK 400 poker analyzer device is adaptable to different variants. It offers support for multiple game types, ensuring that it caters to your specific gaming preferences.
3. Sleek and Portable Design:
With its sleek and compact design, use the most popular iPhone7 as a model, the CVK 400 is easy to carry discreetly and comfortably. It fits seamlessly into your pocket or the palm of your hand, making it an ideal choice for both professional players and casual enthusiasts.
4. User Friendly Interface:
One of the standout features of the CVK 400 is its user friendly interface. Its intuitive design allows players of all skill levels to effortlessly navigate through its functions, providing immediate access to vital game data.
5. Bluetooth Connectivity:
Stay connected with the CVK 400 poker scanning analyzer through Bluetooth technology. You can connect more discreet poker cheating devices and Bluetooth headsets such as watch cameras, power bank poker camera, or even t-shirt poker camera that can be hidden in clothes, enabling you to make informed decisions without anyone suspecting a thing.
6. Long Lasting Battery:
The CVK 400 comes equipped with a powerful battery that can sustain hours of continuous use, ensuring it's ready whenever you are, whether it's a quick game or a marathon poker session.
7. Undetectable Technology:
With its innovative design, the Iphone7 CVK 400 card analyzer poker is virtually undetectable by opponents, allowing you to discreetly gain the upper hand and control the outcome of the game.
In conclusion, the CVK 400 poker cards analyzer is your secret weapon for poker success, offering unparalleled accuracy, versatility, and user friendly functionality in a sleek and portable package. Experience a new level of confidence at the poker table with this cutting edge device. Elevate your poker game and maximize your winnings like never before with the CVK 400 Poker Analyzer.
Don't wait! Take your poker game to new heights with the CVK 400 poker analyzer system today and prepare to outsmart and outplay your opponents with confidence and precision.