When it comes to poker, precision and skill are the keys to success. Whether you're a seasoned pro or just starting, having the right tools at your disposal can make all the difference. That's where Copag, a renowned name in the world of playing cards, comes into play. Copag has a rich history and reputation for delivering top notch playing cards that are trusted by competitions and casinos worldwide.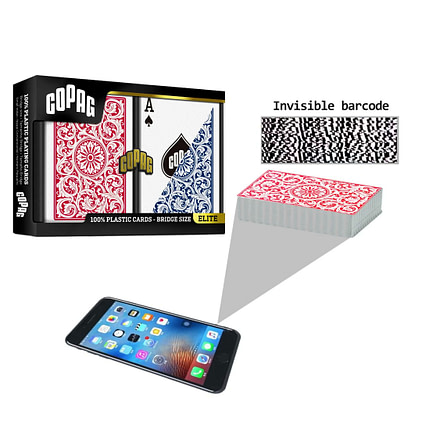 A Legacy of Quality: The Copag Brand
The Copag brand boasts a legacy of excellence that dates back to 1908 when it was founded in Brazil. Over the years, Copag has earned the trust of professional poker players, magicians, and gaming establishments around the world. What sets Copag apart is its unwavering commitment to producing playing cards of the highest quality. Their dedication to craftsmanship, innovation, and precision has made them a household name among those who demand the best.
Unparalleled Quality in Every Deck
The Copag 1546 barcode poker cheat card is a testament to the brand's commitment to excellence. These playing cards are crafted with precision and feature a level of quality that is unparalleled in the industry. What makes them stand out is not just their exceptional feel and durability, but also the advanced printer marking technology and high quality barcode ink processing used to create the markings on the cards.
Fade Resistant and Secure
One of the standout features of the Copag 1546 poker cheat card is the use of high quality barcode ink processing. This ensures that the barcode markings on the marked cards remain crisp, clear, and, most importantly, resistant to fading. This attention to detail guarantees that your advantage remains intact throughout countless games, providing peace of mind to players who rely on these cheat card poker for strategic play.
Elevating Your Game with Poker Analyser
The Copag 1546 poker cheat card isn't just about having superior quality cards. It's about leveraging cutting edge technology to gain a competitive edge in your poker games. By utilizing poker analyser, you can easily scan and analyze the barcode cheating playing cards in real time, allowing you to access critical information like the winner, odds, and other essential game data in a matter of seconds.
Fast and Efficient Results
The poker analyzer, when paired with the Copag 1546 poker cheat card, can provide you with a decisive advantage. It offers a swift and efficient means of calculating game outcomes, giving you a real time understanding of the game's dynamics. This advantage can be invaluable for both casual players looking to improve their skills and professionals seeking that extra edge.
In conclusion, the Copag 1546 poker cheat card is more than just a deck of cards; it's a game changing tool that combines Copag's legacy of quality with modern technology. Trusted by competitive players and casinos alike, these marked poker offer a unique blend of craftsmanship, security, and efficiency that can elevate your poker experience to new heights. Whether you're honing your skills or aiming to outsmart your opponents, the Copag 1546 poker cheat card is your ultimate ally in the world of poker.