Copag 139 decks are great decks for poker players. They are available in two colors, red or blue. Both can have markings printed on the back of the card. You can print Copag 139 cards with larger lettering in the center, smaller lettering in the corners, and smaller lettering on white borders. You can also customize the marked playing cards according to your requirements. Copag 139 cards have very strong markings that are not easily visible to the naked eye. Are the markings only visible when wearing infrared contact lenses or poker sunglasses?
Red and Blue Cards: Use large font markers in the center, small font markers in the corners, or very small markers (white markers or black markers) on a white border. Red cards work better than blue cards for contact lenses and poker sunglasses.
Copag cards are considered the best in the world by players who are knowledgeable about card games. Gamble cheat Copag poker marked luminous cards are the perfect choice for a magic show, or if you want to win a poker tournament. Cheat Copag139 paper marked playing cards are more durable than ordinary marked cards. They can last 50 times shuffled. Copag 139 marked cards are more durable thanks to the Air Cushion Finish. You can use one deck of Copag Magic Cards for a long time. We will guide how to use in detail Copag 139 marked cards with infrared lenses or perspective glass. Our products will make you happy, especially the Copag 139 paper marked luminescent playing cards.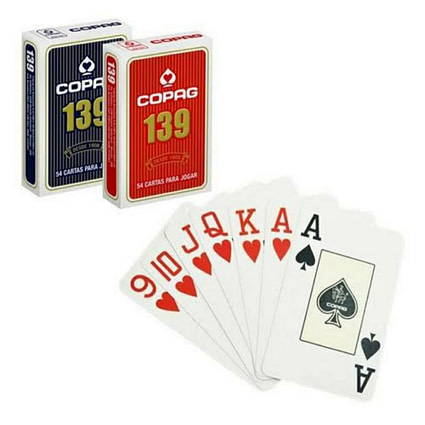 The Copag 139 invisible ink barcode marking Copag playing cards is one of the magic poker devices that plays an important role in predicting poker ranks. These Copag 139 laser-barcoded cards can be scanned using a playing cards scanner. They also work with the poker winner predictor. You could disguise the playing cards scanner as a daily item. No one can find any tricks inside if you keep it well hidden. To detect invisible ink markings on the edge of Copag 139 barcode card cards, you only need to use contact lenses or luminous ink glasses.