Copag playing cards are made entirely of plastic. It can be turned into either back-marked or sides-marked cards. To work with different marked poker cards, you will need to use different infrared inks.
For infrared contact lens users, Copag playing Cards poker can be used. These cards are very popular among our customers. To read the Copag luminous contact lenses back marked cards, you only need one pair of infrared or invisible ink contacts. You can use the marked cards poker with infrared contacts or invisible ink glasses for many poker games, including Texas hold 'em and Omaha.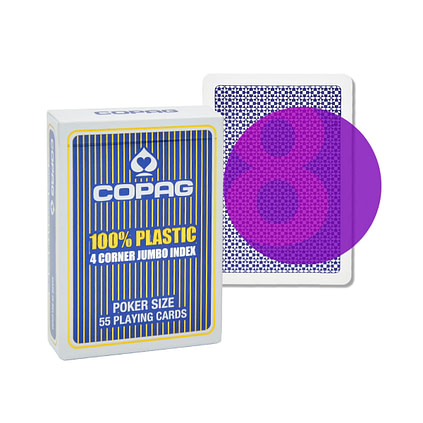 These COPAG PVC playing cards can be found at the most prestigious poker tournaments and casinos around the world. COPAG PVC cards are extremely popular among poker players due to their high quality. COPAG is always ahead of its competition due to the high quality and low prices of its plastic playing cards. COPAG cards sold online are 100% plastic with the exception of the COPAG 310 decks or the COPAG NEO cards. The COPAG 100% plastic cards are great for playing bridge or poker, and will provide hours of card fun!