Magicians used to love the Fournier 505 marked deck. This advantage was also its fatal flaw. The trick is easy to find for ordinary people. Today, thanks to the advancement of technology, invisible markings can be tinted with special ink on the backs of cards. The markings are invisible to the naked eye, so professional equipment is required. The new technology will allow you to update your magic shows and increase the mystery. It is also suitable for all poker games (Texas Hold'em and Omaha, Blackjack, Baccarat etc. ).
Fournier 505 marked decks are standard size with 52 cards and two trumps. There are two colors: red and blue. All Fournier playing cards we process are imported from Spain.
Fournier 505 Playing Cards feature a smooth plastic-coated finish that's perfect for sliding, abrasion, and bending resistance. They are a popular choice among playing cards due to their long history.
Fournier 505 playing cards can not only be processed into back labels but also can be processed into barcode side labels. If you want to play back signs, you will need to use appropriate equipment, such as infrared contact lenses or playing card sunglasses, to see invisible inkblots.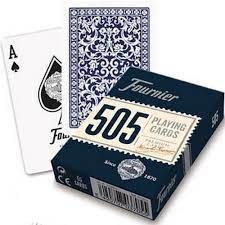 If you prefer cards marked on the side with a barcode, you have more options. You have two options: you can use the poker analyzer phone alone (i.e. put the analyzer next to the table), or you can use the external scanning camera with the poker analyzer. You can hide the scanner in a t-shirt, watch, or mug to scan Fournier poker Cards
All of our marked cards including the Fournier brand outperform other poker playing cards manufacturers in the industry in terms of quality and longevity. The satisfaction of our marked playing cards customers motivates us to improve. Let us know if you are interested in Fournier 505 marker playing cards.